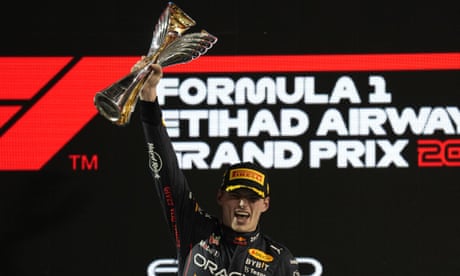 After the bang with which Formula One ended last season in Abu Dhabi it was perhaps fitting that this year a somewhat anticlimactic season bowed out with a whimper at the Yas Marina circuit.
Max Verstappen took the season finale win with the same dominant, inch‑perfect execution that long since secured his second championship but it was another victory that only emphasised how much the sport has missed a genuine fight at the front of the grid this season.
Lewis Hamilton was at the heart of it with Verstappen last year, losing out in that controversial decider at Abu Dhabi. The crushing disappointment has doubtless not been alleviated by an arduous season with an underperforming Mercedes. He cannot wait to see the back of the car that delivered a final ignominy at Yas Marina, when he was forced to retire with a hydraulic problem three laps from the end.
All too much then for the Mercedes team principal, Toto Wolff, who announced his intention to make one final use of the cars. To have them lurk at the team's factory and engine plant, like Banquo's ghost, "pour encourager les autres".
Wolff said: "We are going to put these cars in the receptions in Brackley and Brixworth to remind us every single day how difficult it can be. This is a character‑building season. It's raw and it's bad and it's OK to feel like this but next year we are back."
For Hamilton there has been precious little to take away from the year, save his appreciation of how hard his team have worked to drag their car into a competitive state such that it was, in teammate George Russell's hands, finally able to win a race at the last round in Brazil.
There was no such small comfort for Hamilton in Abu Dhabi. As the season ends so, too, does his remarkable record of being the only driver to have taken a victory in every season he has competed in F1 since his debut in 2007. He may shrug this off as an irrelevance but he has also fallen into territory in which he will not be happy. He finishes the title race in sixth, his lowest standing and behind Russell, who was fourth and took fifth place in Abu Dhabi.
In a 16‑year career, it is only the third time Hamilton has been outscored by a teammate.
There will be no fond memories of his recalcitrant W13, Hamilton conceded in what he described as one of his three worst seasons. "We started with a car we didn't want and we finished with a car we didn't want," he said. "I am very pleased it is over and done with. I gave it everything, but ultimately the last race was like my whole season. It summed up my year."
Verstappen has endured no such angst with his machinery. His win was a pedestrian affair unchallenged out front but the real battle was in his wake. Behind him Ferrari's Charles Leclerc and Red Bull's Sergio Pérez were in a fight of their own for second place in the championship. They took it to the wire having adopted alternate strategies but Ferrari's one-stop ultimately paid off. Leclerc managed his rubber brilliantly to the flag to seal second despite a charge from Pérez who was third. Red Bull once more denied their first drivers' title one-two.
The team will not lose sleep over it. For all that it was serene for Verstappen this, too, was an apt reflection of his and Red Bull's season, on track at least. He closes with 15 wins from 22 races, a record, and his team have taken 17, their best return. They go into the close season top and will remain favourites when racing resumes in March next year.
Mercedes have their work cut out to challenge them but it is Ferrari who must do the most soul searching this winter. They left it far too late in the season to finally pull off a strategic coup for Leclerc that also secured second place for the Scuderia in the constructors' championship. Too little too late after a year strewn with errors and the winter presents a chance for the team to reset.
Their last title challenge was mounted by Sebastian Vettel who bade an emotional farewell in his last race, retiring after a 16‑year career and four world championships. "I'm sure I'm going to miss this more than I can think of," he said. "I don't have much more to say, I feel empty."
He closed out with 10th place for Aston Martin at the track where he secured his first title in 2010 and was treated to a well‑deserved standing ovation as he climbed from his car for the last time.
The German is calling time on his career just as the new generation is stepping up. Verstappen is in the vanguard and with ease and finality in Abu Dhabi he once more demonstrated his ascendance in 2022. F1 must hope he is to be tested a little harder next time around.
Carlos Sainz was fourth for Ferrari, Lando Norris and Daniel Ricciardo sixth and ninth for McLaren, Esteban Ocon seventh for Alpine and Lance Stroll eighth for Aston Martin.